Celebrities and tattoos go together like peanut butter and jelly. The latest celebrity to get inked? Kyra Sedgwick. Find out the sweet reason behind her ribcage tattoo.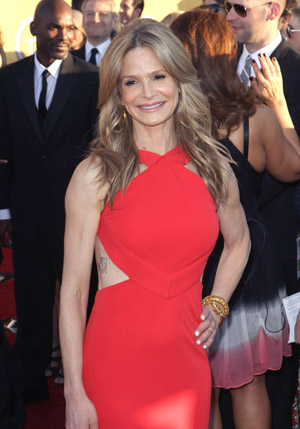 Actress
Kyra Sedgwick
looked incredible in Pucci
at the 2012 Screen Actors Guild Awards
, but all anyone could talk about was her new ribcage tattoo. The wife of
Kevin Bacon
showed off the small ink and explained the art's special significance.
"It's a family tattoo she told
E! News
host Giuliana Rancic. "It's all our initials K, K, S and T."
We all know the two K's stand for Kyra and Kevin, but the S and T? Those are for their kids: Travis, 22, and Sosie, 19.
Sedgwick is hardly the first celebrity to get a tat on her ribs. Miley Cyrus,
Demi Lovato
and
Rihanna
all have ribcage tattoos. Megan Fox even had a few words added to her ribcage in honor of her
Passion Play
co-star
Mickey Rourke
.
"Fox confessed that she feels a bond with Rourke because they are both celebrities who march to the beat of their own drummers and say what they feel," a source told
MTV News
in 2010. "In fact, Fox's admiration for Rourke goes so far that she got inked up in his honor."
At least she didn't get a tattoo of his face.
Cyrus
got a tattoo of a dream catcher on her ribs in 2011. She has another tattoo, the words "just breathe," on the opposite side.
"It really doesn't hurt if you're thinking about the meaning. I could never get a meaningless tattoo, but I think that if you're doing something that's important, that's significant in your life, it takes some of the pain away," she told
Harper's Bazaar
of that tattoo. "It reminds me not to take things for granted. I mean breathing — that was something none of them could do, the most basic thing. And I put it near my heart, because that is where they will always be."